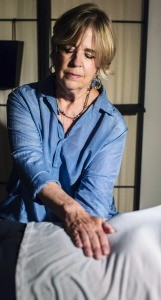 Session Rates and Description
Client Session: $150.00
In 2004 I began offering bodywork, massage therapy, and energy medicine here in San Diego after getting licensed as a Holistic Health Practitioner and Massage Therapist.
As I gained experience with clients and continued studying, I also gained clarity in the ways my skills best serve my clients. So in 2013, I re-defined my work and stopped offering traditional massage therapy sessions in order to focus completely on Energy Bodywork. While there is definitely an overlap among the healing arts, being an "Energy Bodyworker" most accurately describes how I work with clients…..joining with them to move their energy and create a shift in their life.
Feel free to text and/or call Marsha at 619-851-0188 or email marsha@blissconnections.com with questions or to schedule an appointment.
Session Duration:
Each Energy Bodywork Session is unique. Our time together is sometimes more than the scheduled time. (There is no additional fee.) Please allow approximately 1 1/2 hours.
Payment:
Methods accepted include cash, check, paypal or credit card.